2019 CUMU Call for Presentations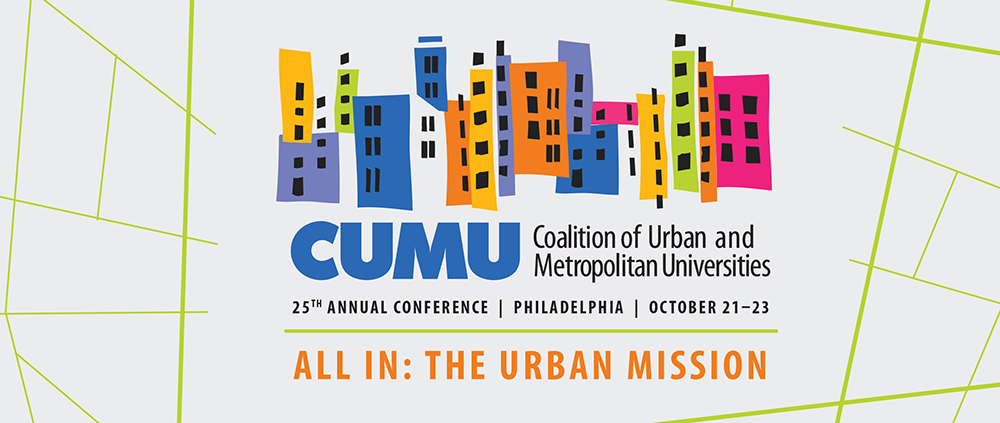 Conference Overview
Institutions of higher education play major roles in strengthening the fabric of our communities. Across the CUMU membership, institutions are more closely aligning university goals with those of their city and achieving positive outcomes more quickly. They promote economic mobility, drive economic development, foster creativity, address societal challenges, and improve lives.
The 2019 CUMU Annual Conference, All In: The Urban Mission, looks at the role higher education plays in creating significant, equitable outcomes in collaboration with the communities they serve. The theme asks CUMU members to reflect broadly and specifically on how the urban mission can be fully integrated, from real estate assets to college readiness pipeline programs, and into their operations, structure, partnerships and academic objectives.
Learn more about the 2019 Annual Conference.
Presentation Types
Best Practices
Have you led a successful project, partnership, program, or case-study that is working at your institution? Presenters should showcase your work and/or methodologies, highlight what worked, and present positive outcomes. 30 minutes. Maximum two presenters.
Community Conversations
What keeps you up at night? These think tank style sessions are designed to provide a platform for dialogue among attendees on hot topics. Community conversations are not about sharing or defining solutions; they are conversations that should define problems, ideas, or practices that you have given thought to. Facilitators (presenters) should design a session that creates a thought-provoking and interactive experience for attendees. 60 minutes. Maximum three facilitators.
Lightning Sessions
Lighting presentations are quick, engaging, and should inspire attendees to seek you out to learn more. Most importantly, they are fun. Presenters should highlight an idea, success, approach, or trend; bring to light an issue or challenge; or give a personal perspective on a topic. Five minutes. One presenter.
Mini Workshop
Have you experienced success in the implementation of new processes, infrastructure, or policy approaches related to addressing a challenge or issue in your community or institution? Mini Workshops should be focused; inform on their topic; and engage attendees around a question or task. Presenters could create an interactive component where attendees may work individually or in small groups. At its core, these are how-to sessions. 60 minutes. Maximum three presenters.
Panel Presentation
Panel presentations are question and answer sessions focused on a specific topic. Panelists should avoid creating a showcase of something they are doing well, but should include diverse view points and perspectives. Ideally, community partners should be included. 60 minutes. Maximum five panelists.
Poster Sessions
This is a great opportunity to gain significant attention for your work in a more social atmosphere. Poster displays will be available for viewing during a joint reception and open to all attendees. Poster sessions operate under a "free-flowing" format as attendees will typically come-and-go. 90 minutes. Maximum two presenters.
Questions? We have answers!
Please feel free to email us at any time at info@cumuonline.org.